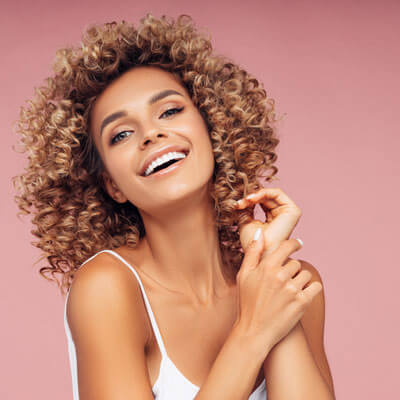 Cosmetic Dentistry
Dr. Lisa is one of the specially-trained cosmetic dentists to have completed advanced aesthetic studies through the prestigious Las Vegas Institute (LVI). LVI is known for bringing forth some of the most skilled cosmetic providers in the dental industry. Her training – paired with a passion for perfection and an eye for detail – allows us to bring you the perfect smile that you're looking for.
Something for Everyone
Depending on your preferences and smile needs, Dr. Lisa may recommend a specific or combination of cosmetic treatments to produce the outcome you're looking for. Some are more conservative and quicker to complete, while others require more comprehensive care spaced over the course of months.
Some of our most popular cosmetic treatments include
Dental Veneers – Dazzling porcelain veneers mask the healthy teeth behind them, immediately transforming the way your smile looks from the outside. Each veneer is hand designed for optimal aesthetics, enhancing the color, shape and alignment of your teeth. Veneers work well for staining, crowding, chipped and atypically-shaped teeth.
Teeth Whitening – ZOOM! Teeth Whitening professional lifts years of stain and natural tooth discoloration for a bright, healthy glow. See amazing before-and-after results in just one appointment. Plus, we include a set of trays to maintain your results once you get back home.
Invisalign® – Straighter teeth are naturally more attractive. Invisalign offers both cosmetic and oral health benefits with the help of removable, transparent orthodontic aligners. Adults can discreetly straighten their teeth for improved symmetry and better oral hygiene. Invisalign easily fits into your busy work or family schedule.
Porcelain Crowns and Bridges – Ceramic restorations are both durable and attractive. If you have missing, broken or worn-out teeth, our porcelain crowns and bridges can restore your smile back to a functional state. Although they're technically used for restorative treatments, our lab is chosen especially for producing cosmetic restorations that enhance your smile's appearance at the same time.
Dental Bonding – Composite bonding is a simple, fast solution for masking chipped teeth and atypical enamel. While bonding may not offer the same coverage and durability as a veneer, it's ideal for small areas that are posing an aesthetic concern. Get results in just one day.
Tailored Just for You
No two smile makeovers are alike. When you visit with Dr. Lisa, you'll have an opportunity to discuss what your goals are as well as a timeline or budget you're working with. Together, we'll plan out which aesthetic treatments will provide you with the outcome you're looking for.
What Will it Look Like?
Each of our complex smile makeover cases involves a digital preview or diagnostic wax-up of your proposed treatment. You'll be able to visualize what your smile will look like before the treatment even starts. Make tweaks, special requests or browse through our book of before-and-after photos to discover what's possible.
Request a Consultation
Don't let your smile stand between you and your true personality. Request a cosmetic dentistry consultation to discover what's possible. Contact us today to reserve your first appointment.
CONTACT US

Cosmetic Dentist in Columbia MD | (410) 381-0900