Pediatric Orthodontics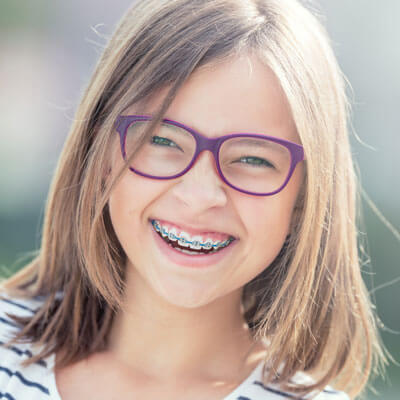 The growth patterns of your child's oral anatomy can affect their appearance, speech, and adult teeth for decades to come. By intercepting issues earlier, we can guide your child's oral development and tooth positioning in a way that facilitates healthier biting patterns as they get older.
A properly aligned smile is less likely to develop tooth decay, gum disease and TMJ disorder. It's also essential to healthy digestion, speech development and self-esteem.
Orthodontic Evaluations for Children
Dr. Casey is a board-certified pediatric dentist with advanced training in early intervention orthodontics. He recommends bringing children in for an orthodontic evaluation by age 7, where we can see a combination of primary (baby) and permanent (adult) teeth, to protect their future biting patterns.
By making proper adjustments to your child's bite at a younger age, we can minimize the extent of fine-tuning orthodontics in the future. Today we know that it's better to facilitate healthier tooth eruption patterns and bone growth, rather than to place teenagers with more mature anatomy in braces for a lengthier amount of time.
Crafton Dental provides a variety of orthodontic treatments, including traditional braces, Invisalign® First and interceptive appliances.
Depending on your child's age and other factors (such as a history of thumb sucking or tongue thrusting) we'll discuss which type of braces are best and approximately how long the therapy will take.
Fixed appliances such as traditional braces require a bit of extra time each day to keep them clean. It's recommended that your child use an electric toothbrush and fluoride toothpaste to minimize the risk of enamel demineralization (from plaque buildup).
A proxy brush, floss threader or water flosser should also be used daily. These oral hygiene aids clean areas that a toothbrush cannot reach.
Be sure to schedule regular preventative checkups and cleanings for your child every six months.
If your child is in braces for any length of time, there's always the risk of something breaking or coming loose. Especially if they eat something hard or sticky. Fortunately, most orthodontic "emergencies" can be managed at home until we're able to see you for an appointment.
For loose brackets or bands, simply leave them in place. If the area is irritating your gums, place orthodontic wax over it. Wires that are poking or loose can be adjusted with tweezers or the eraser-end of a pencil. Again, place wax over the end if it is causing discomfort. In most cases we will make the adjustment during your regularly scheduled orthodontic appointment.
If your child's teeth are tight together, rotated, crooked or you notice speech delays, schedule an orthodontic evaluation with our pediatric dentist. All children should have a bite evaluation by the time they're 7 years old.
Payment Options
Our orthodontic patients can take advantage of affordable in-office payment plans for braces, Invisalign® and other early interceptive treatments.
Request an appointment today to learn more about our pediatric orthodontic options.
CONTACT US

Pediatric Orthodontics in Columbia MD | (410) 381-0900