General Dentistry
Our comprehensive family practice offers a wide range of preventative and restorative care options for all ages. Whether you're simply maintaining your current level of oral health or need to restore broken teeth, we offer the care you need at every stage of life.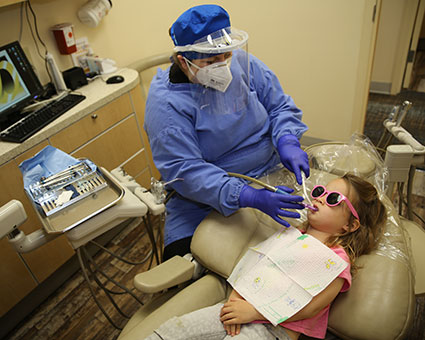 Prophylactic Cleanings – Most people with healthy teeth and gums require a preventative cleaning about every six months to maintain optimal oral wellness. During your cleaning, one of our highly-trained dental hygienists will remove buildups such as tartar and plaque, measure your tissue attachment levels, take digital X-rays (as needed) and recommend modified hygiene methods when applicable.
Periodontal Disease Treatments – If you have evidence of bone loss and tissue detachment, a periodontal care plan can reduce your chances of tooth loss. Gum disease is the #1 cause of adult tooth loss in America but it can be controlled with a series of scaling and root planing (deep cleaning) sessions. In some cases, a full mouth debridement may be needed to fully assess your gum health prior to soft tissue therapy being rendered.
Oral Cancer Screenings – We perform an oral cancer screening during each preventative care appointment. Identifying signs of red or white plaques, lesions and other sores helps to pinpoint precancerous and cancerous tissues earlier, for more effective treatment. Oral cancer can be completely painless. If you have a sore that doesn't heal within two weeks, be sure to let us know.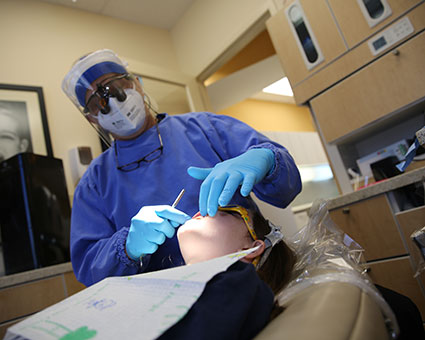 When you have a tooth that's broken, worn-out or non-functional, it affects your entire day. From talking to co-workers to eating a meal, you rely on functional, intact teeth to speak and chew.
Our high-quality restorations are designed from durable, tooth-colored materials that restore and enhance your teeth. That way they're both strong as well as attractive.
Tooth-Colored Fillings – We provide white composite dental fillings instead of conventional amalgam (silver) restorations. Composite bonds more closely to the tooth, allowing them to be more durable while less invasive. Their bonding mechanism makes it possible to place white fillings throughout all areas of your smile, as opposed to only certain teeth.
Crowns and Bridges – Our porcelain crowns and bridges are designed from 3D digital impressions in one of North America's best dental laboratories. The impeccable detail provides your bite with added durability without compromising cosmetic detail.
Dental Implant Restoration – Are you working with an implant specialist to replace your missing teeth? We can provide you with a fixed restoration such as a porcelain crown or bridge to complete your implant therapy and smile transformation.
Will I Need X-rays?
Digital X-rays use as much as 90% less radiation than traditional dental radiographs. These high-resolution images allow us to closely evaluate areas of your mouth that are not visible during a clinical exam. As such, they're an integral part of your exam and ongoing care appointments.
If you have recent X-rays from a previous dentist, we will work to get those transferred to our office, so that some type of baseline imaging is available for reference purposes.

General Dentist in Columbia MD | (410) 381-0900