Meet Dr. Lisa Crafton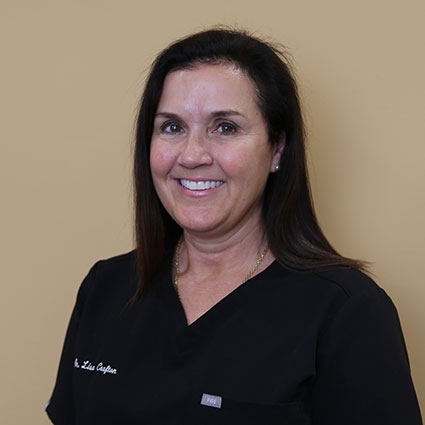 Dr. Lisa began her dental career as a Registered Dental Hygienist because she was passionate about a career helping others. After working in a periodontal practice for several years, she began working as a hygienist at the University of Maryland. There, one of the dentists she worked with encouraged her to apply to dental school. She took his advice and loves being a dentist!
Experience Anxiety-Free Care
In addition to being a highly skilled dentist, Dr. Lisa is committed to helping patients have the most anxiety-free experience possible with her. She says the most fulfilling thing about being a cosmetic dentist is "peeling away the layers" of bad experiences patients have had and helping them overcome their phobia of the dental office. Dr. Lisa always takes the time to understand what has happened with her patients in the past, so she can help them feel relaxed and confident in her care.
Dr. Lisa does not base her recommendations on what insurance will or will not cover. She provides you with all the information and options regarding your care so that you can make your own informed decision. And she will only recommend therapies for you that she would recommend for her own family.
Providing Unparalleled Skill
Dr. Lisa continually expands her education to provide the best options for her patients. She is a graduate of the prestigious Las Vegas Institute of Advanced Dental Studies, which is known for producing some of the most skilled cosmetic dentists in the oral health industry. She is also a member of the following professional organizations:
American Dental Association
Maryland State Dental Association
Howard County Dental Association
In Her Spare Time
Outside of the office, Dr. Lisa enjoys running, hiking with her dogs and reading—particularly historical fiction. She also volunteers in her community.
Book Today
If you've put off making a dental appointment because of fear, we can help. Contact us today to schedule your first appointment with our skilled and compassionate doctors.

Dr. Lisa Crafton | (410) 381-0900