Dental Veneers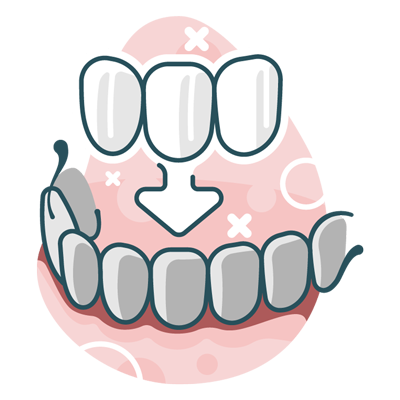 Porcelain veneers are thin layers of ceramic that cover the outward-facing surface of your teeth (similar to acrylic or artificial nail). When shaped across your smile, you can address aesthetic issues such as
Small gaps between teeth
Minor misalignment
Uneven or atypical tooth shape
Severe staining, discoloration
Preview Your New Smile
Our office is equipped with state-of-the-art technology such as iTero digital scanning. The 3D imaging equipment captures a virtual impression of your teeth which is then sent to our lab for your cosmetic smile design.
Before we fit you with permanent porcelain veneers, we'll have the lab send us a wax-up model of what your proposed smile will look like. You can request adjustments if needed.
What to Expect
Your first appointment is a consultation to discuss your concerns and goals. What is it that you want to change about your teeth? Are dental veneers right for you? We'll discuss your smile and what's possible.
If you decide to move forward with treatment, we'll schedule you for a preparation visit where the teeth are slightly adjusted for your 3D scan and final veneer fitting. Then we'll fit you with a set of temporary veneers, while the permanent porcelain ones are being designed in our preferred lab. We've chosen one of the best veneer labs in North America, providing you with impeccable aesthetics and durability. A few weeks later, your veneers are ready to bond into place.
The entire process typically takes 4-6 weeks from start to finish.
Check Out Our Smile Gallery
Ready to reserve a cosmetic veneers consultation? We have a smile gallery of dental veneers cases for you to see what's possible and to find inspiration for your own smile makeover. Contact us today to reserve an appointment.
CONTACT US

Dental Veneers in Columbia MD | (410) 381-0900