Sports Mouthguard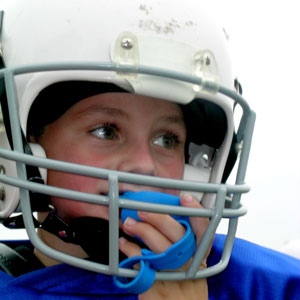 Athletic injuries are some of the most common causes of dental injuries. From broken and knocked-out teeth to facial lacerations, adults and children alike are at risk.
Wearing a professionally fitted sports mouthguard can significantly reduce the severity of your injury. The customized appliance stays in place when you need it to, limiting the risk of soft tissue injuries, broken teeth, and lacerations.
Reduced Concussion Risk
Some types of concussions seen in athletes are due to trauma to the jaw and how the impact affects the base of the skull. Wearing a professionally designed sports mouthguard can potentially lessen the severity and risk of a concussion. The key is to have an appliance that's fitted to the individual with the right layer of protection and a secure fit.
Professional vs. Over-the-Counter Appliances
While commercial mouthguards are easily available, they lack the secure and comfortable fit that you'll see with a custom appliance. This looser fit makes them more prone to falling out when you need them most. Whereas a custom mouthguard will fit you "like a glove" for the highest level of protection. That way they don't fall out and put you at risk for secondary trauma or more severe injuries.
Teams Welcome
Our sports mouthguards are available in a variety of color options. If your team is looking to get matching protective equipment, just let us know!
Mouthguard in a Day
The majority of our custom athletic mouthguards can be designed and ready to wear in about one business day. All you need to get started is a quick impression of your teeth. Contact Crafton Dental today to request an appointment for yourself, your teen or child.
CONTACT US

Sports Mouthguard in Columbia MD | (410) 381-0900