Pediatric Cleaning and Exams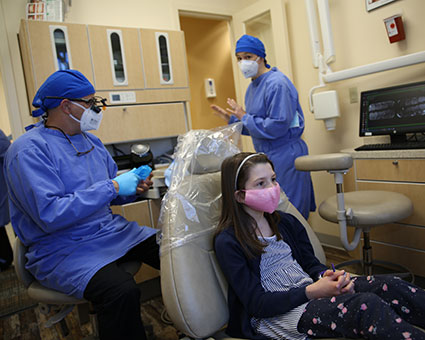 Professional cleanings performed by a hygienist are just as important to your child's dental health as daily brushing and flossing. Using specialized tools and training, your child's hygienist will
Remove plaque buildup from the surfaces of teeth. (Bacteria in the mouth form plaque, which collects on teeth and causes decay, gum disease, and gingivitis.)
Remove tartar from teeth surfaces. (Tartar, or calculus, is plaque that has become so hardened on the teeth that its removal requires special procedures.)
Remove surface stains from teeth through polishing.
Offer individualized guidance on the best home care for your child's preventive regimen.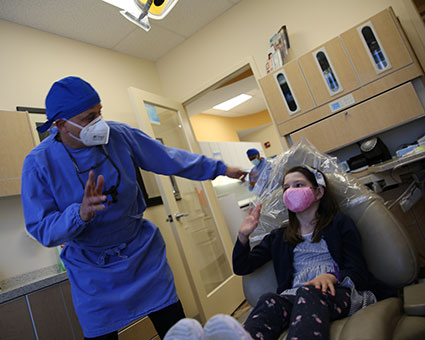 Regular examinations help detect and prevent dental health issues before they become serious. Routine dental check-ups help catch problems when they are small and easier to treat. Left unattended, small treatable problems may become worse and may require more extensive procedures to repair. Dental examinations in our office generally include the following:
Visual and laser tooth decay evaluation
Visual gum examination
Digital X-ray examination to detect: tooth decay in developing teeth
Regular examinations are very important for your health. Remember, "An ounce of prevention is worth a pound of cure." -Benjamin Franklin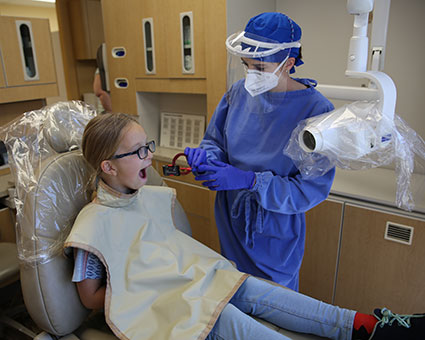 X-rays are a primary tool for early identification of dental problems. Detecting issues with X-rays before they become problematic can save your child from unnecessary discomfort or pain. X-rays are primarily used to detect
Internal tooth decay
Teeth that are still coming in
Digital X-rays Advantages
Digital X-rays have several advantages over traditional film-based X-rays:
Emit up to 90% less radiation
Are ready for examination instantaneously
Can be viewed on a computer screen
Can be refined and enlarged
Are greener; no chemicals are necessary for processing
Schedule a Happy Visit to Crafton Dental
Now this can't help but make you smile!
We encourage all children who are new to Crafton Dental, whether other family members are already patients or not, to come visit us for an introduction to our office. This offer for a free tour and introduction to our staff is also extended to "Kids at Heart" of all ages. Please call our Columbia dental office to schedule a Happy Visit during regular office hours.
CONTACT US

Pediatric Cleaning and Exams in Columbia MD | (410) 381-0900