Pediatric Dentistry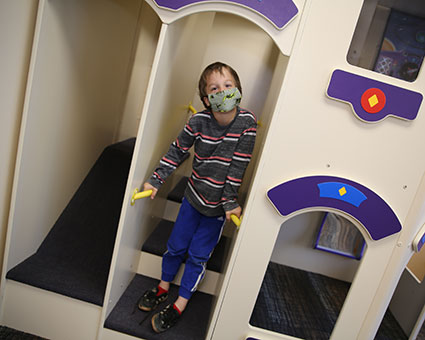 Dr. Casey is a board-certified pediatric dentist with over 30 years' experience in patient care. His specialized education allows us to facilitate care for young children of all backgrounds, including those with special needs. Dr. Casey also has advanced training in the area of early intervention pediatric orthodontics.
Our Passion for a Positive Experience
Early, positive experiences with a pediatric dentist can promote better oral health and eliminate dental anxiety as children grow into adults. We work at your child's pace and provide a gentle experience where they can feel at ease.
When needed, Dr. Casey can exercise his hospital visitation credentials to provide full-sedation for more complex and special needs individuals. However, his friendly demeanor and our upbeat team make it so that most children can complete their routine treatments right here in our office.
We're passionate about working with children and older teens with special needs, including those with autism. Please let us know if your child requires extra attention or has triggers that we may need to avoid during their visit.
Bonding for Broken Teeth – Does your child have a chipped tooth? Composite bonding can repair the broken area to minimize sensitivity and loss of self-confidence. Bonding is minimally invasive and matched to the natural color of your child's smile.
Sedative Fillings – This interim treatment delays the spread of tooth decay in baby teeth that are likely to fall out soon.
Tooth-Colored Fillings – White composite fillings prevent decay from spreading deeper into the nerves of teeth, adjacent teeth and underlying adult teeth. Cavities should be treated as early as possible. Composite fillings are one of the most minimally-invasive restorative options.
Dental Sealants – The chewing surfaces of back teeth are some of the most common areas to get cavities. Especially since even a single toothbrush bristle cannot clean in some of the narrow grooves and fissures. Dental sealants are a highly effective way to reduce the occurrence of tooth decay and make teeth easier to clean. They only take a couple of minutes to apply.
Orthodontics – Dr. Casey's additional training in early interceptive pediatric orthodontics makes it possible for us to provide traditional braces, Phase I treatment as well as Invisalign® First for young children and teens.
Children are prone to dental injuries, especially if they're involved in athletic types of activities. Broken, chipped and abscessed teeth are some of the most common dental emergencies we see.
Dr. Casey will work to treat your child's pain as soon as possible and find a solution to restore the tooth when needed. It may be that the tooth will naturally fall out in a few years or that it's an adult tooth that will need a more long-term restoration.
Our custom sports mouthguards and early intervention treatments can help keep emergencies to a minimum. The best thing to do is bring your child in for a checkup at least every six months.
Digital X-rays allow Dr. Casey to see deeper into teeth and assess the full extent of decay or infection. They're extremely safe for all ages.
What is the Difference Between a Pediatric Dentist and a General/Family Dentist?

Pediatric dentists are the "pediatricians of dentistry". Pediatric dentists have two to three years of additional training following dental school, focusing on the specific needs of children. In addition, pediatric dentists typically limit his/her practice to treating children only. Pediatric dentists are primary and specialty oral care providers for infants and children through young adulthood, including those with special health needs.
At What Age Should My Child Have His/Her First Dental Check-Up?

According to the American Academy of Pediatric Dentistry, children should see a pediatric dentist "when the first tooth appears, or no later than his/her first birthday".
How Often Does My Child Need to See a Pediatric Dentist?

For most children, routine check-ups are recommended every six months to prevent cavities and other dental problems; however, your pediatric dentist may recommend more frequent appointments based on individual oral health needs.
When Will My Child Start Getting Teeth?
Teething, the process of primary (baby) teeth erupting through the gums into the mouth, varies among individual children. Generally, the first teeth (lower front teeth) begin to eruption between the age of 6-8 months; although the pace and order of eruption varies, most children will have complete primary dentition (20 primary teeth).
Permanent teeth begin eruption around the age of six, beginning with the first molars and lower front teeth; the process of exfoliation and eruption continues until approximately 14 years of age. The third molars, or "wisdom teeth", typically erupt between 17-21.
Are Baby Teeth Really that Important?

Primary, or "baby" teeth are important for many reasons. Primary teeth play a vital role in the development of speech and proper chewing/eating. Additionally, primary teeth aid in maintaining the space for a permanent tooth when it is ready to erupt.
Are Thumb Sucking and Pacifier Habits Harmful for My Child's Teeth?

Thumb sucking and pacifier habits typically only cause a problem if they persist over a long period of time. Most children stop these types of oral habits on their own; however, if children continue oral habits beyond the age of three, intervention may be recommended.
Request an Appointment
Contact us today to reserve a pediatric dentistry appointment for your child.
CONTACT US

Pediatric Dentist in Columbia MD | (410) 381-0900